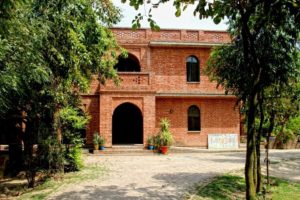 Roshni Association was founded in 2001 by Shahida Perveen (from Pakistan) and her husband Hamid Hannesen (from Germany). The aim was to combine the meeting of the Orient and the Occident with an appropriate perspective of people with disabilities and special needs. Roshni Association is currently running two projects, Roshni Village and Green Earth Roshni School to support the neglected areas of care for special persons and education to village children, respectively, in our society.
Board Members
Dr. Farkhanda Ghafoor – President
Mrs. Nasira Mehmood – Senior Vice President
Mr. Babar  Bhatti – Vice President
Mr. Muhammad Zahid Durrani – General Secretary
Mr. Tariq Habib Mirza – Joint Secretary
Mr. Muhammad Ijaz Rao – Treasurer
Ms. Sabiha Khan – Secretary Public Relations
Workshops
Ms. Saima Sattar Bajwa – Day Service Support Manager
Ms. Zareena Rasheed – Textile Workshop Incharge
Ms. Rida – Art & Craft Workshop Incharge
Mr. Irfan Ilyas – Wood Workshop Incharge
Mr. Ghulam Sarwar – Organic Bakery Incharge
Mr. Alexander Kühne – Organic Farming Incharge
Living Community
Mr. Ghulam Sarwar – Roshni House Manager
Ms. Ghazala Rubab – Roshni House Coordinator
Mr. Alexander Kuhne – Sumbal House Manager
Ms. Shakila Kuhne – Sumbal House Coordinator
Green Earth Roshni School
Ms. Munirah Nadeem – Principal
Ms. Kashmala Sajid – Coordinator
Support Functions
Mr. Aamir Rizvi – Public Relations Manager
Mr. Sohaib Riaz – Finance Manager
Mr. Masood Sadiq Khan – Procurement & Field Officer
Our team also includes a number of devoted board members, co-workers, teachers and other supporting staff.